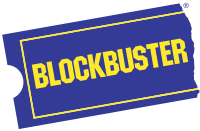 Our Rating:

User Rating:
Based on 5 reviews
Read Reviews
Write Review
Visit Blockbuster
Blockbuster Review
In the past year, Blockbuster has made a feverish attempt to catch Netflix in the ever growing online DVD rental industry. From huge promotions to in-store deals, they've strategically positioned themselves as a viable alternative to the current leader.

Much like their main competitor, Blockbuster offers unlimited DVD rentals on a flat fee monthly membership with one twist. The ability to use their stores for your movie exchanges (with some packages) and ultimately speed up the overall turnaround time is a major plus that needs to be weighed heavily. This feature is of course unique to Blockbuster, and a major incentive for anyone within close proximity of one of their locations. Their packages include free shipping and free exchanges.
Inventory

Blockbuster boasts an extensive list of titles that tops out at just over 70,000. They include an impressive array of new releases to extremely rare finds. It's a movie lovers dream and you'll be able to fill up your queue quickly with any movie that you can dream of.

While their movie selection is solid, their television shows were lacking. Many popular TV shows were a couple seasons behind. We'd like to see them make a more concerted effort toward bulking up this part of their inventory. They also just don't have the depth compared to Netflix when it comes to documentaries and educational videos. While they cover all the basics, they miss out on some of the more obscure gems that some of us look for. One plus is that they tend to cover the ground much better on re-issued releases of old movies which include Special Feature versions, or Director's Cuts. Their overall inventory to add is nice and not the reason they have been docked in this category.

Our biggest complaint was simply in the availability of some of the movies. While the new releases were readily available online, they are often hard to come by at the actual stores on weekends. Not-so-popular movies online can sometimes have long waits in excess of a couple months. While it's not the norm, it does happen from time to time and a little bit more than with Netflix. We have to wonder if this is a consequence of their sudden growth and influx of new members.

Blockbuster has also made a considerable push toward Blu-ray discs in the past few months and is heavily supporting them in both their stores and online. They do carry some HD-DVD copies online, but have limited them to only a handful of stores throughout the country.
Membership Features

The new Blockbuster Total Access is what some people call "the Netflix killer". It allows Blockbuster members to return movies directly to the store as well as rent them. It's the perfect companion for those who watch movies in bunches and just don't feel like waiting for the mail. The regular Total Access plan allows you to do this a set number of times a month, while the Premium Total Access plan gives you unlimited trips to the store (although you pay a higher price). This feature is the cornerstone of the Blockbuster plan and the primary reason for choosing them over Netflix. But it's also only a perk if you're within close distance of an actual Blockbuster store. Blockbuster announced the closing of 262 stores in 2007, which shows a move from physical locations to mail order. While it's a huge benefit if you're located near a store, it may only be a matter of time before that store closes up.

Their member's area is extensive and offers a ton of options. Over 70,000 titles are broken down by multiple movie categories along with a title/actor search. The search though isn't great, and the results can sometimes be a bit cumbersome to navigate through. They've made some improvements of late, but it still feels clunky and more complicated than their counterparts.

Blockbuster Online also has a friends and recommendation section on the site. The recommendations seem to be a crap shoot and nowhere near as accurate as Netflix. You'll be left shaking your head on many occasions at the suggestions, and even roll your eyes when you see movies that you've rented and rated show up. The friends section is helpful and allows you to see what your buddies enjoy and dislike. While these features may not be important to some, it is worth noting that they need substantial work.
Movies Information
Blockbuster really shines when it comes to the information they provide for their over 70,000 titles. Their movie synopsis is significantly longer than those on Netflix and they list the actors/actresses roles alongside their names. It comes across as a mix between IMDB and Amazon profiles. User reviews have been added in the past year, although they don't list the reviews of famous critics which is sometimes nice. The ability to rank movies by half stars is a plus and gives more accurate 5-star rankings than Netflix. There is also a link on most movies to the theatrical trailer in its entirety.
Shipping

Still somewhat newer to the online rental game, Blockbuster doesn't have the sheer volume of shipping centers as their primary competitor Netflix does. Still, they boast a decent amount and get the job done. Their website claims over 90% of subscribers receive their rentals within one day, although we weren't able to hit that number in our tests. In major cities, the results were superb, but in smaller cities, the results were closer to 2 days for delivery. While we found that they were a little slower than Netflix, it really comes down to your location, mail service, and proximity to a shipping center. This is all a moot point however if you're using the Total Access and exchanging at stores.

Throttling (what is throttling?) is of course an issue that has come up lately in regards to Blockbuster. In 2006 after complaints by customers, Blockbuster released a statement saying they don't throttle accounts. However, they have left the door open by permitting the act of throttling within their terms of service. The "allocation process" gives customers who rent the fewest movies per month a priority in shipping and selection.

In our experience, Blockbuster does throttle high volume accounts. The throttling seemed random at times while we'd get a few DVDs quickly, then notice a 3-4 day turnaround on the next few DVDs. While Total Access would seem to be "throttle proof", we also noticed long turnaround times when returning DVDs to the store on our high volume accounts. Whether this is due to the actual store's inefficiency or Blockbuster's "allocation process" is to be determined.

Nonetheless, their shipping system is top notch. Not on the same level as Netflix, but getting close. We don't take the throttling too serious as every company engages in it and it seemed to only happen on high volume accounts.
Pricing

Here is where things get a little confusing for the novice DVD renter. Blockbuster essentially has three types of plans, the By Mail program, Total Access program, and Total Access Premium program.

The by mail program is essentially the same thing you get at Netflix and prices similarly. You can however drop your movies off at the store for faster turnaround time. We recommend this plan to those who don't live near a physical Blockbuster location:

1 at-a-time (2 a month) for $3.99
1 at-a-time (Unlimited) for $8.99
2 at-a-time (Unlimited) for $13.99
3 at-a-time (Unlimited) for $15.99

The Blockbuster Total Access plan gives you all the benefits of the by mail plan with the ability to exchange movies in-store for free up to a certain amount a month. This is good for someone who lives near a Blockbuster and doesn't mind stopping in on occasion to pick up a DVD.

1 at-a-time (2 a month) for $9.99 (2 in-store exchanges a month)
1 at-a-time (Unlimited) for $11.99 (2 in-store exchanges a month)
2 at-a-time (Unlimited) for $16.99 (3 in-store exchanges a month)
3 at-a-time (Unlimited) for $19.99 (5 in-store exchanges a month)

Finally the Blockbuster Total Access Premium package is for the movie nut that just can't get enough. This plan allows you unlimited in-store exchanges and means you'll probably be making friends with every Blockbuster employee in the area.

1 at-a-time (Unlimited) for $21.99
2 at-a-time (Unlimited) for $29.99
3 at-a-time (Unlimited) for $34.99

Members get access to the Blockbuster Outlet which allows subscribers to take an additional 10% off previously viewed movies. Previously viewed DVDs come with all the components of a new one and a 50-day quality guarantee (Netflix has a 1 year guarantee). The pricing is extremely affordable and you can find some popular flicks for under $5.
Summary
The inevitable question always comes down in these reviews, Netflix or Blockbuster? The answer isn't simple however. Both offer different things and each person has to decide what's important to their membership. If you don't live near a Blockbuster location or hate stopping in the stores, we just don't feel like it's as good as Netflix. Their online system isn't as nice and their shipping times are a little slower. But if you do have a local store that you enjoy, don't mind paying a few extra bucks, you'll get more for your dollar with Blockbuster. With both companies offering 2-week trials, I think it's worth testing both out, playing with their systems, and seeing which one works best for you.
User Reviews Of Blockbuster
Posted By Steve Hudson on September 05, 2009
I would give them zero stars if I could but this program won't let me. I tried Blockbuster once before. I cancelled it because of the slow service. A friend told me that they had improved so I gave them another try. Today, with almost a month of rentals remaining, I emptied my queue in disgust and cancelled the service. Blockbuster claims to ship the next business day. I guess that must be some other distribution center. The one that serves my area takes 3-4 days to ship a new disk after sending me an e-mail confirming that they have received the last disk I returned. Also, they had the nerve to send me two e-mails in the same day saying that they had shipped a movie and received it back the same day! The e-mail said that if i thought there had been a shipping error I should add the movie back to my queue again. IF! Blockbuster can't even figure out that they made a mistake. They should pay someone to straighten the mess they call a company out while they still have a company to fix! That or cile Chapter 7 bankruptcy and forget it. Stick with Netflix.
Posted By Nick on October 06, 2008
I am having the same problems everyone else has had with blockbastard. They ship fast for the first 2 weeks free trial, once you have paid the they ship slower and slower. Then I canceled because of the slow service and they just stopped shipping my movies. I paid for the whole month, but have another 11 days paid up! They claim you will receive your movies in a 1 or 2 days. That is far from being right. This is what I have come up with. Movies in 1 day 10% Movies in 2 days 30% Movies in 3 days 50% Movies in 4 days 7% Movies in 5 or more days 3% I told them I do not renew and cancel my account when the monthly fee runs out. They shut my account off 9/29 I still had another 11 days left to receive at least 3 more, but no. They said the month ends at the end of each month. I did not pay for a partial month, that was not an option. If you start up with them during the month, they have found a way to steal from you. They owe me $6.33 for the unused portion and will NOT send me anything. The emails I receive trying to get my movies or money back are just unbelievable, they are just down right stupid. Even when blockbastard receives a movie it takes them almost 48 hours before they ship the next one out - if you sign-up with blockbastard, you should receive 3 movies a week and that is it! Go with Netflix, All the movies I have received from them are next day except for one that shipped from New York and that was 4 days. You should recieve 6 a week with Netflix. Never again blockbastard!!!!
Posted By juls on September 17, 2008
I have been a member of blockbuster.com twice now. This second time around has been nothing but a pleasure. I have the 1 at a time unlimited for $8.99. What I love about this plan is that I get in-store exchanges for only $1.99. If I return it late, my late fee is only a $1.99, they do not bump it up to regular late fee costs. I also return my movie to the store and receive my new one in the mail in 2 days! I have even received a new release in the mail on the day it came out. I highly recommend blockbuster.com! There is one thing I do not like about the website. They don't list all the new releases. I go to a seperate website to find them.
Posted By Robert Patrick on June 05, 2008
Having tried Netflix, and Blockbuster, my review of Blockbuster follows: First Netflix will not refund your monthly subscription unless you "do a "chargeback" with your credit card issuer. This has happened to me twice. The fact that Netflix has over 100,00 vs 80,000 with Blockbuster indicates to me anyway that Netflix has more duplicates, and not "director's cuts" The mail receive and return time is quicker with Blockbuster; this is noticeable. I suppose a lot of what I am presenting may be "personal taste" but a company that makes an effort to give you your movies quickly seems important. I have read that Netflix knows your password; I can't prove this, but your password is your business( nobody else) Yes the refund policy can go both ways, but seems to be easier with BB. The website of BB is fine for me and I have no complaints. The number of movies in BB is 999 for BB vs 500 for Netflix; while you should have 30 with BB minimum, it is a good idea to know this upfront BEFORE you choose your online service. You will find "first run" movies with BB first, as I have. I am at least trying to be objective without trying to find fault. Lastly with the End" for Intelliflix" and I had them, I am hoping BB will "clean up" their act.
Posted By George on April 22, 2008
I used Blockbuster for only a short while after I thought Netflix was throttling my account. I liked the interface at Blockbuster, but shipping times seemed to be on par with Netflix. I also thought they had a slightly smaller selection of movies than Netflix. I did not live very close to a Blockbuster at the time, so I never tried returning or renting movies at the store. I think if I lived close to a Blockbuster I would prefer them to Netflix. Strictly online/ by mail I give the advantage to Netflix.