Wednesday, June 18th, 2008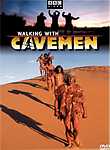 Rating:

The BBC has a rich history of quality documentaries that involve science and history. From the creators of the popular Walking with Dinosaurs and Walking with Beasts come the 2003 television documentary Walking with Cavemen. This series focused on human evolution and attempted to put the viewer in the shoes of our most ancient ancestors.
It's first worth noting that I'm a huge science geek. Studying evolution is a hobby of mind and I usually soak up anything that can be found on the Discovery Channel, National Geographic Channel, or the new Science Channel that are related to evolution.